News & Case Studies
Details

Written by

Administrator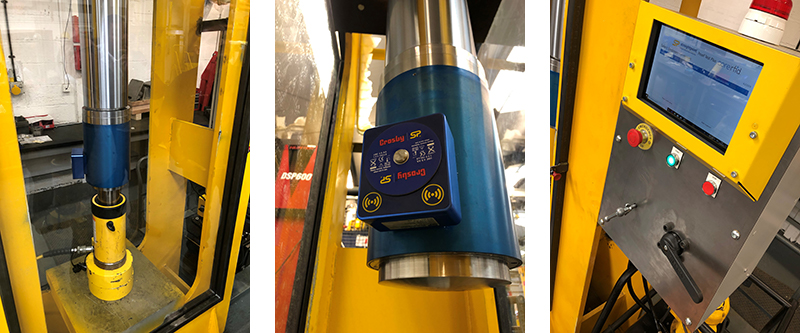 A 300t capacity Straightpoint (SP) compression load cell is recording data on Worlifts' newest Samson COMP-300T-DTR machine that tests hydraulic cylinders and jacks.
Worlifts provides a range of services related to the supply, hire, maintenance, test and repair of high-pressure hydraulic tools and other lifting and rigging equipment. It has a current fleet of testing machines but recently overhauled its Bromsgrove, Worcestershire, UK facility to better utilise its centrepiece, 500t capacity unit, which tests both the company's own equipment from the hire fleet plus customers' jacks and cylinders.
Paul Smith, sales director at Worlifts, said: "We decided that we needed to modernise and upgrade our testing facilities to allow us to carry out testing more efficiently and to a larger capacity—all in one test machine. The focal point of this initiative was to increase our capacity to 500t statically and incorporate the load cell for dynamic testing. Previously, we used two machines and reaction beams so we have significantly enhanced the operation with the upgrade."
Smith explained that the load cell, which is screwed into position, is easily removed for high-capacity, static tests or others where such technology isn't required. Additionally, Worlifts plans to implement a quick-release mechanism in the near future that will enhance its use even further. The load cell can also play an integral role in completion of independent compression tests to fabricated components and steel fixtures.
Smith said: "We have already noted the positive impact the upgrade has had on the operation and we anticipate continued utilisation. There are many reasons why hydraulic cylinders and jacks might need to be tested including annual examination, repair, specifications, certification, etc. That status quo will remain but we have greatly enhanced—technologically and mechanically—the way we are able to respond to that varied demand."
SP's compression load cells boast a number of standout features, including manufacture from high-grade stainless steel, internal antennae wireless range of 700m (or 2,300 ft.), and operation with standard AA batteries. The range is easily connected via a USB dongle to SP's iOS and Android app or to its SW-HHP wireless handheld display. In Worlifts' case, readings are taken on a tablet that is panel-mounted on the machine. It uses SP's state-of-the-art software to capture those readings and produce reports as required based on preference or customer demand.
---
Details

Written by

Administrator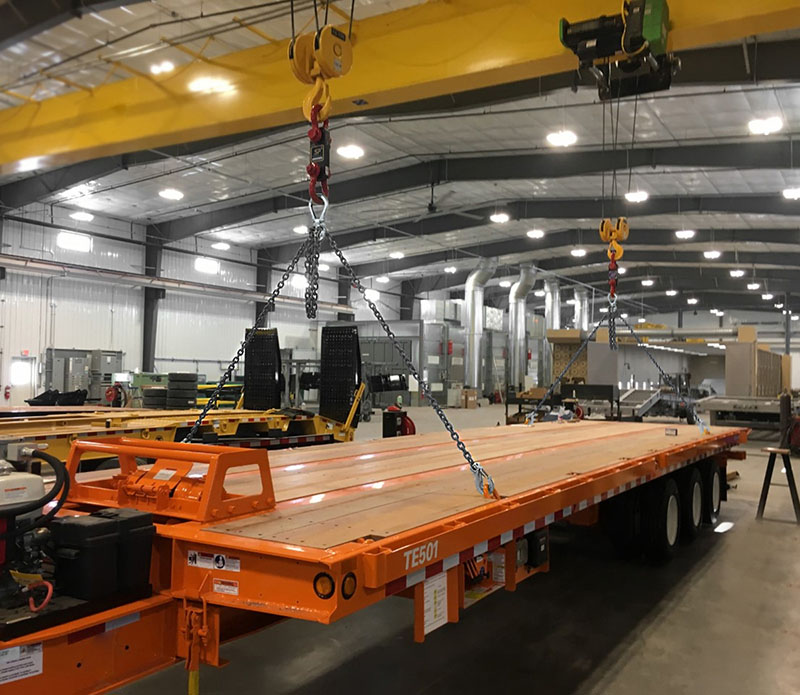 Trail-Eze Inc., a Mitchell, South Dakota-based manufacturer of heavy equipment trailers, has put two 13-ton capacity Straightpoint (SP) Radiolink plus load cells at the heart of material handling operations at its new, state-of-the-art facility.
Trail-Eze specializes in production of sliding axle, hydraulic tail, and detach trailers to assist customers in efficiently and safely moving equipment on the road. The third generation, family-owned business recently opened the new site at headquarters, which is now one of three central South Dakota facilities—in Mitchell, Corsica, and Platte—where it fabricates trailers from start to finish.
Nate Tapio, operations manager at Trail-Eze, said: "Opening the new facility marks the culmination of years of research and development into the latest painting and finishing technology. The site allows us to consolidate the final stages of our production under one roof. The dynamometers are integral to a technologically-advanced operating environment; the software is easily customized to our needs, the products are user-friendly, and they save us time on every trailer."
The new, 41,000 sq. ft. building has been custom-designed for the final stages of trailer manufacture; blasting, painting, wood decking, and final inspection are principle tasks. Two 7.5-ton capacity overhead cranes with a 92-ft. span cover most of the 100 ft.-wide, free span building, while a single 15-ton, double-hoist crane has a span of 60 ft. The remote-controlled cranes, fitted with Stahl CraneSystems hoists, were fabricated by Global Crane and installed by Orion Rigging. They lift loads in a variety of sizes and weights, which are now accurately monitored by SP's equipment.
Tapio said: "We actually discovered the SP solutions through our local lifting and rigging equipment supplier, Dakota Riggers. They knew we were seeking a method to generate an accurate weight of pieces and whole trailers we produce; this is important for our manufacturing processes and our customers."
He added: "This is the first time we have utilized any of their products but we've been impressed. Previously our methods were inconsistent and time-consuming. Now, we can quickly and accurately get a weight on every trailer."
The Radiolink plus is SP's best-selling dynamometer, designed to be rigged with Crosby standard shackles. The wireless tension load cell is capable of weighing and dynamic load monitoring in capacities from 1t to 500t, from stock. It is available in a long range, 2.4GHz version, providing 700m or 2,300 ft. range to the manufacturer's SW-HHP handheld or wireless software, or in Bluetooth that can be connected to any smart phone running SP's free HHP app on iOS or Android at ranges up to 100m or 328ft.
---
Details

Written by

Administrator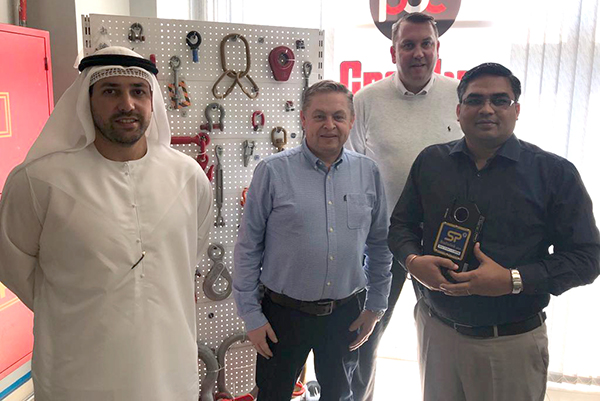 Dutest, a third-party inspection company and lifting equipment supplier, will distribute the entire range of load cell manufacturer Straightpoint (SP) throughout the United Arab Emirates (UAE), with immediate effect.
The switch to SP's extensive range of force measurement technologies follows its acquisition by the largest lifting, rigging, and material handling hardware company in the world, The Crosby Group, which had an existing supply agreement in place. Dutest has facilities in Dubai and Abu Dhabi but delivers solutions to customers across the emirates.
Saravanan T., regional manager—UAE at Dutest, said: "We already work closely with Crosby and receive excellent support from them. Coupled with the proactivity of SP representatives, it made business sense to add their products to our extensive stocks of lifting and rigging gear. UAE is a region that welcomes technological advancement of the industry and that trend aligns with our partnership with Crosby—and now SP. I anticipate demand for their equipment from marine, aviation, manufacturing, and heavy construction industries, in addition to oil and gas."
David Ayling, global business development director for load monitoring solutions at SP, said: "One of the appeals of Crosby ownership was enhanced market penetration and the Dutest agreement serves as a timely example of that improved ingress. That's not to say Dutest wouldn't have considered a partnership with SP directly at some stage, but the existence of the Dutest-Crosby supply chain clearly accelerated us to this point."
Ayling and David Mullard, business development manager at SP, have already deliveredproduct training to Dutest representatives, covering the whole range. The Radiolink plus is SP's best-selling product, designed to be rigged with Crosby standard shackles. The wireless tension load cell is capable of weighing and dynamic load monitoring in capacities from 1t to 500t, from stock. It is available in a long range, 2.4GHz version, providing 700m or 2,300 ft. range to the manufacturer's SW-HHP handheld or wireless software; or in Bluetooth that can be connected to any smart phone running SP's free HHP app on iOS or Android, at ranges up to 100m or 328ft.
Meanwhile, SP recently launched a new single capacity Bluelink load cell that introduces Bluetooth technology to existing and prospective customers still utilising outdated mechanical force measurement products. Bluelink is a 6.5t (14,300 lb.) capacity load cell, targeted at end users that remain loyal to traditional equipment but who might be receptive to enhanced technology and the inherent advantages of reading data digitally, at a safe distance. As Ayling reiterated, however, the Radiolink and Bluelink are just two examples in a range of safety-centric solutions designed with the end user in mind.
Marcel Tabuteau, area sales manager at Crosby, said: "We are still in the relatively early stages of the previous supply agreement with Dutest so its recent adoption of SP technology is testament to the strength of partnership we have been able to forge even over the past two years. The [SP] range is more advanced than alternatives on the market and it's evident that greater investment has been made in product development, which is important to Saravanan and his team."
Saravanan added: "Generally business is good. We are looking forward to a long-term relationship with Crosby [and SP]. When new innovations are launched, we want to be among the first to put them to market. We have a good rapport with end users and are constantly trying to covert our customers to the equipment we on-board."
Pictured (left to right): Mohammed K. Bin Dasmal, managing director at Bin Dasmal Group; David Ayling, global business development director for load monitoring solutions at SP; Marcel Tabuteau, area sales manager at Crosby; and Saravanan T., regional manager at Dutest UAE.
---
Details

Written by

Administrator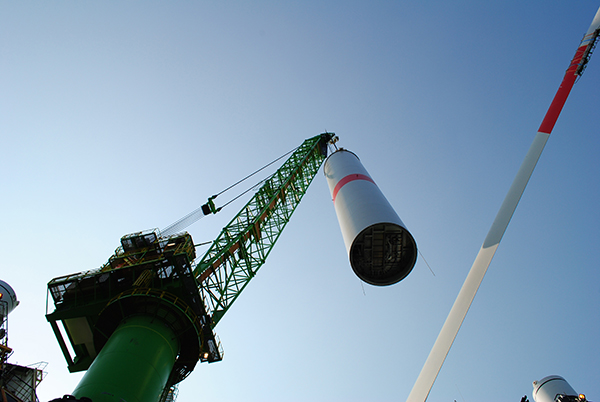 Straightpoint (SP) manufactures a number of force measurement products, ranging in capacity up to 1,000t+, which are used in a variety of ways by the wind energy sector. The equipment is typically supplied to end users through SP's extensive distributor network that delivers state-of-the-art load cells to offshore, wind power, and other job sites across the world.
SP, recently acquired by lifting and rigging equipment giant Crosby, has modified its equipment for use in the most demanding environments. Its best-selling Radiolink plus wireless load cell, like many products in the portfolio, boasts IP67 or NEMA6 environmental protection and DNV GL Type Approval Certification, while an ATEX and IECEx version is available in hazardous zones 0, 1, and 2. Further, the range is constructed from high quality aerospace grade aluminium and works with standard AA batteries.
SP, a technological pioneer in its field, recently updated its Bluetooth capability and launched an enhanced version of its popular app to enable its load cells to communicate with up to eight devices, up to 100m (328 ft.) away. Collected data can be sent onto other recipients in the form of an Excel spreadsheet or PDF report. The app takes its name from SP's Handheld plus display unit, which uses an alternative technology allowing a range of up to 700m (2,300ft.), while the Multiple Wireless Load Cell Controller (SW-MWLC) software package displays and logs data from up to 100 SP wireless load cells simultaneously.
Wind energy lifting applications that implement load cells are varied but David Mullard, business development manager at SP, picks four examples of particular interest to professionals in the industry looking to increase their use of the technology. In each instance, it is evident how monitoring the weight of the load and / or its centre of gravity enhances safety, particularly when lifting and other equipment is being operated close to its working load limit (WLL).
"First," begins Mullard, "Let's look at the more familiar application of loading out a windmill tower. Here, end users [of SP equipment] lift structures in their entirety onto custom-built vessels or other transportation. They can weigh over 400t so it's vitally important that lift supervisors monitor the forces being applied and use the load cells as an overload prevention tool. It's common to utilise a pair of, say, 250t capacity Radiolink pluses, which can provide a total sum of the load."
His next selection is the lesser-known use of load cells in relation to the service hoists that are frequently found in the nacelle at the top of towers. They are used during routine or other maintenance works. Such hoists, which might range in capacity up to 500kg, are used for lifting and lowering tools and parts.
Mullard says, "It's important that service hoists are regularly tested and inspected in line with LOLER [Lifting Operations and Lifting Equipment Regulations 1998]. Users might opt for a Radiolink or a Loadlink plus to execute a test, verify that the hoist is performing as it should be, and capture the data. A 1t to 2.5t capacity load cell would commonly be utilised for such work."
The Loadlink plus is designed to be rigged with Crosby standard shackles. It is known worldwide as the original electronic force measurement device to feature an integral display. Over the years the line has been expanded and it is now used for lifts ranging in capacity from 1t to 300t in a variety of industries including wind energy, manufacturing, transportation, agriculture, oil and gas, utilities, and aerospace.
Thirdly, Mullard introduces wind energy professionals to the compression load cell, which might be used for centre of gravity or weight calculations on any large fabricated item prior to load out, for wind energy that typically relates to a jacket or foundation that sits below the water surface. Mullard points out that multiple compression load cells can all connect wirelessly to SP's range of PC software via a USB dongle to verify centre of gravity of large and heavy objects that may not be evenly proportioned.
The final mention goes to SP's range of subsea load cells that can be used to monitor the tension on cables and moorings. Mullard says, "It's surprising to some the extent of tethering and moorings at offshore wind farms, beneath the surface of the water. It's important to know the forces being applied to those lines during all sea states and weather conditions. Environmental protection from the advanced internal design structure and high grade sealing allows for [SP] products to be used in wet conditions without danger of failure."
SP will exhibit at Global Offshore Wind 2019, which takes place 25-26 June at London's Excel.

---
Details

Written by

Administrator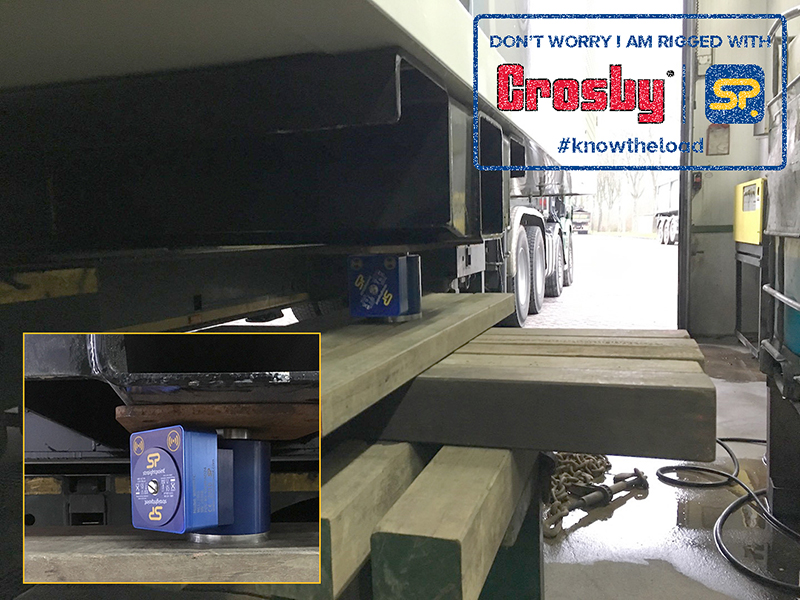 Ridderkerk, Netherlands-based lifting and rigging equipment rental company LGH Hijsmaterieel B.V. (LGH) employed four Straightpoint (SP) compression load cells to confirm the weight and centre of gravity of a magnetic resonance imaging (MRI) machine prior to transportation recently.
LGH, which offers a range of SP force measurement solutions, chose 10t capacity wireless compression load cells to record important data as the MRI unit was manipulated before it was placed on a trailer for relocation by Wesdijk Exceptioneel Transport, of Alphen aan den Rijn, an hour north of LGH's headquarters near Rotterdam.
SP's compression load cells boast a wireless range of 700m or 2,300 ft. to the manufacturer's SW-HHP handheld or wireless centre of gravity software, which in this case was installed on a laptop where data was read at a safe distance. The load cells and software commonly combine to verify the centre of gravity and weight of large and heavy objects that may not be evenly proportioned. The system captures the weight on each individual load cell, total weight, and centre of gravity, and displays it in a HTML report.
The MRI scanner measured 5.13m (approx. 17 ft.) by 2.01m (approx. 6.5 ft.) and weighed in at 21,175kg (21.17t). The value of the load test was emphasised by the difference in actual readings to paperwork supplied with the load, which suggested it should have been in the region of 26t. The load, complete with the latest scientific equipment and components, presented an exaggerated offset centre of gravity due to the angle at which is was loaded and secured for road transportation.
Matthijs Senff, sales engineer at LGH for Holland's western region, said: "The information was principally gathered for the crane team in Madrid [Spain] who had to prepare their lifting tackle for offload. Jacking timbers were used to raise the scanner so the load cells could be positioned. The load cells were positioned and then connection to the laptop was secured. Upon configuration, the trailer was lowered to let the [MRI] unit rest on the load cells. We conducted further stability tests before taking three data readings and displaying the average findings on the report, which we could export immediately from the laptop."
Senff added: "We frequently use our range of SP products in such applications. The equipment is cutting-edge technology and offers great user-friendliness onsite. Heavy lifting, onshore, and offshore industries, and the maintenance sector are among those utilising the technology for load tests and other applications."
A Bluetooth version of the compression load cell was recently added to the range that can be connected to any smart phone running SP's free HHP app on iOS or Android at ranges up to 100m or 328 ft. ATEX and IECEx versions are also available for use in hazardous area zones 0, 1, and 2. Units are machined from high-grade stainless steel and standard AA batteries offer 1,200 hours of life. Senff also pointed out the product's environmental protection to IP67 / NEMA6.
Senff has recently stepped into a new role at LGH B.V., having spent the previous two years as an inbound technical member of staff. He concluded: "I'm glad I made the transition. I had a strong understanding of the SP and other products in our portfolio, but to play a more hands-on role in their application on the front line adds a real-life dimension to my work. I look forward to many more compression and other load cell projects in future."
SP was acquired by lifting and rigging hardware giant The Crosby Group at the turn of the year.
---