News & Case Studies
Details

Written by

Administrator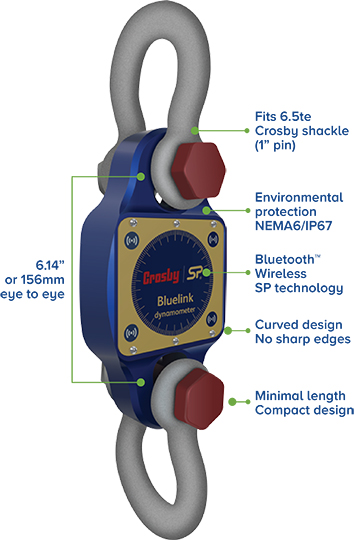 Straightpoint (SP) has unveiled its new single capacity Bluelink load cell that introduces Bluetooth technology to existing and prospective customers still utilising outdated mechanical force measurement products.
Bluelink is a 6.5t (14,300 lb.) capacity load cell, targeted at end users that remain loyal to traditional equipment but who might be receptive to enhanced technology and the inherent advantages of reading data on an iOS or Android smartphone installed with SP's free HHP app.
SP, recently acquired by Crosby, is a proven pioneer in technological advancement—its wireless load links, load shackles, and compression load cells are already Bluetooth 4.2 enabled—but Bluelink will sit further down the spectrum in applications for which a mechanical solution remains the instinctive choice but where the safety gains achieved by reading data at a distance of up to 328 ft. or 100m are of course acknowledged.
David Ayling, global business development director for load monitoring solutions at SP, said: "It's important that we market the Bluelink accordingly. The launch doesn't place a yardstick by which to measure the ongoing technological progression of our range, but more reflects our ability to continue to provide tools for the many different types of user looking to understand the forces being applied. This isn't an alternative to our state-of-the-art systems, but a step towards the latest wireless technology, perhaps for professionals only just beginning their migration from traditional solutions."
Rigged using industry standard shackles, such as the Crosby G2130, the Bluelink has been designed to minimise headroom; it measures only 6 inches or 156mm from eye to eye. Meanwhile, its compact, lightweight design does not sacrifice on strength with a safety factor of over 500%. Constructed from aerospace grade and hard-anodized aluminium, the product also boasts an advanced internal design structure.
Ayling added: "The design not only provides the product with an unrivalled strength-to-weight ratio, but it also allows the use of a separate internal sealed enclosure providing the load cell's electronic components with NEMA6 or IP67 environmental protection even with the battery cover plate missing. Despite the fact that Bluelink isn't a fully-specced, top of the range load cell, its qualities still suit it to the harshest industrial or leisure environments."
The aforementioned app, which is available for download and easy connection to any SP load cell that possesses the same technology, allows the operator to log data versus time or on events such as over- or under-load, while an adjustable alarm alerts the operator on a smartphone if any overload occurs. It features an analogue load indicator on the main screen and a number of languages, including English, Dutch, Spanish, Norwegian, Japanese, and Chinese.
Bluelink is powered by four standard AA alkaline batteries that provide in excess of 500 hours transmission time, and its internal antennae ensures loads to an accuracy of 0.1% FS are transmitted safely.
---
Details

Written by

Administrator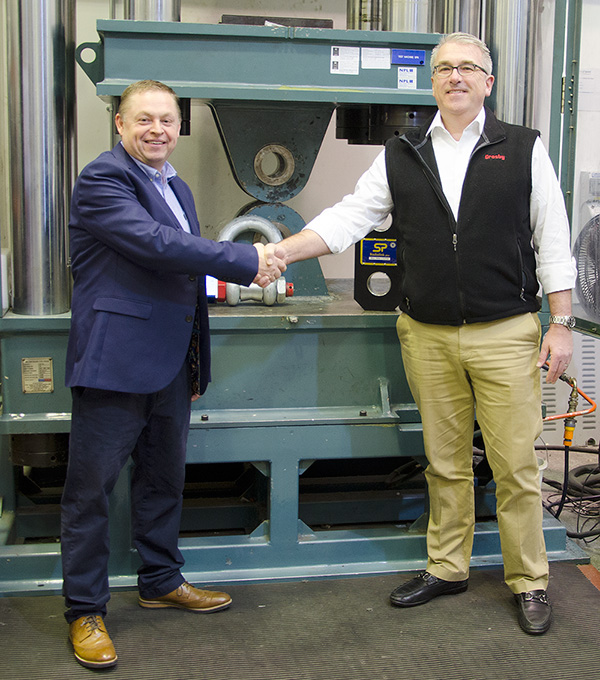 Dallas, Texas-based The Crosby Group LLC, the largest lifting, rigging, and material handling hardware company in the world, has completed the acquisition of Straightpoint UK (SP), a leading manufacturer of load cells and force measurement equipment. The value of the transaction is not disclosed.
The acquisition, effective 1 January 2019, includes the manufacturing facility and headquarters, co-located in Hampshire, UK that will become Crosby's center of excellence for load monitoring and measurement, in addition to key personnel based in the U.S.

David Ayling, formerly CEO at SP, will step into a new role overseeing sales, marketing, and product development functions for all load monitoring equipment. He will report to Robert Desel, Chief Commercial Officer at Crosby.

Ayling said: "SP has built a very strong team focused on innovation and high service levels and we wanted to ensure we could maintain and capitalize on these important features of the company. Crosby's brand, its channel strength, global reach, and management team will enable us to build on our strengths and take the business to a new level. Becoming part of Crosby represents an opportunity to deliver our solutions to more customers and increase the pace of our innovation. It is an exciting new chapter for SP, its team members, and customers."

Desel said: "We've had a close relationship with SP for quite a while—its load shackles are based on the industry standard Crosby G2130 shackle, and we use SP products on our Safe Rigging trucks. SP's position as a leader and innovator in load measurement and monitoring, and the opportunity to integrate its technology into our already strong portfolio, made this a compelling addition to Crosby. Safe lifting is in Crosby's DNA and load monitoring is a critical part of that equation. Monitored lifts are inherently safer and we can now increase adoption of this best practice on a global scale."

He continued: "The acquisition is focused on growth. SP already represented a force in the marketplace and as part of Crosby we can position its products and expertise closer to the point of use and increase the pace of innovation." Ayling confirmed that SP would maintain its commitment to non-rigging markets, such as the weighing sector.
Desel concluded: "We are very excited to add the SP brand, best-in-class products, manufacturing capabilities, and team members to the Crosby organization."

About Crosby
Crosby is a leading manufacturer of premium accessories used in lifting, rigging and securement applications. Based in the US, the company has the reputation around the world for providing a broad range of products suitable for the most demanding of operating conditions with uncompromising quality. Products include wire rope clips, hooks, shackles, lifting clamps, hoist rings, overhaul balls, snatch blocks, crane blocks and sheaves. Crosby also provides a "world class" training program, focusing on the proper application of Crosby Products.
About Straightpoint
For 40 years Straightpoint has manufactured and supplied cabled and wireless telemetry loadlink, load shackles, load cells, digital dynamometers, compression loadcells, crane scales, running line tensiometers and software solutions as well as a range of intrinsically safe load cells. Safety, reliability and quality are paramount in the lifting and rigging industries and so Straightpoint designs and manufactures to the highest standards including ISO9001, DNV-GL Type Approval, ATEX and IECEx.
Details

Written by

Administrator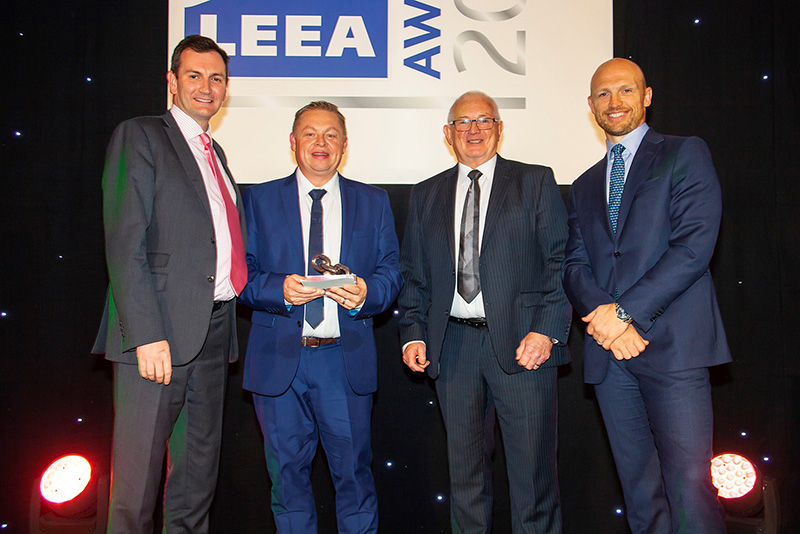 Load cell manufacturer Straightpoint (SP) won the inaugural Lifting Equipment Engineers Association (LEEA) Safety Award, presented in front of over 260 guests at a gala event staged on the first night of last week's LiftEx trade show in Milton Keynes, UK.
Sponsored by lifting and rigging equipment provider Rigging Services, it was one of eight trophies to be given out on the evening as LEEA, the leading authority in the industry, used its flagship event to make a definitive move to recognise member companies and individual representatives for their success against specific judging criteria.
SP was also shortlisted in the Apprentice of the Year, Innovative Product of the Year, Sustainable Solution of the Year, and Unsung Hero categories. Customer Service, Manager of the Year, and the Kevin Holmes Award (a memorial accolade developed to reward companies, teams, and individuals who display excellence in people development) completed the list of honours.
Doug Price, technical manager at Rigging Services, presented David Ayling, director at SP, with the hefty piece of silverware. Celebrity guest speaker Matt Dawson, a retired England rugby union player and now a familiar face on UK television, joined them on stage. The evening was also notable for raising over £2,000 for Great Ormond Street Hospital.
Ayling said: "The concept generally was well received and from a member's perspective the evening was a great success, befitting of an excellent LiftEx in totality. To emerge victorious in the safety category was overwhelming given LEEA's stature in the industry and the extent to which safety is in our company's DNA. We underscore our work with the mantra 'making the lifting industry a safer place' and what stronger endorsement could there be that we're meeting that objective?"
Safety as priority
Paul Fulcher, director at Rigging Services, said: "Safety has always been a number one priority at our company; for employees, that's inculcated in them from their first day. Sponsorship of this award was therefore natural in that it encapsulates our own ethos and we would likely find ourselves kindred spirits with the eventual winners. We're honoured to be associated with LEEA; the awards concept, which defines its work; and the safety-centricity of this particularly category."
Fulcher, who is also halfway through a two-year tenure as LEEA chairman, added: "I had two reasons for offering my congratulations to David and SP—one with my company hat on and the other as a representative of the association. The integrity of the awards must be absolute. Beyond that, with regards to the Safety Award, it can't be subjective; there are objective measurements. A single nominee wouldn't guarantee a winner, nor would the judges have bestowed the honour upon the best of a bad bunch. Thus, it must have been the opinion of the panel [comprising senior LEEA management and honorary life members] that SP were truly deserving—and that warrants sincere commendation."
In a statement prepared for media, Dr. Ross Moloney, CEO at LEEA, said: "The LEEA Awards is all about recognising the excellence of our members and showcasing it to the global lifting industry and to end user markets. The response has been overwhelmingly positive—from the high number and impressive standard of entries to an outstanding turnout for an incredible evening. I thank all those companies and individuals that took the time to enter. Congratulations to all the finalists and, of course, the winners and special thanks to our sponsors for their outstanding support."
Photo: Left to right Dr. Ross Moloney, CEO at LEEA; David Ayling, director at SP; Doug Price, technical manager at Rigging Services; and Matt Dawson
---
Details

Written by

Administrator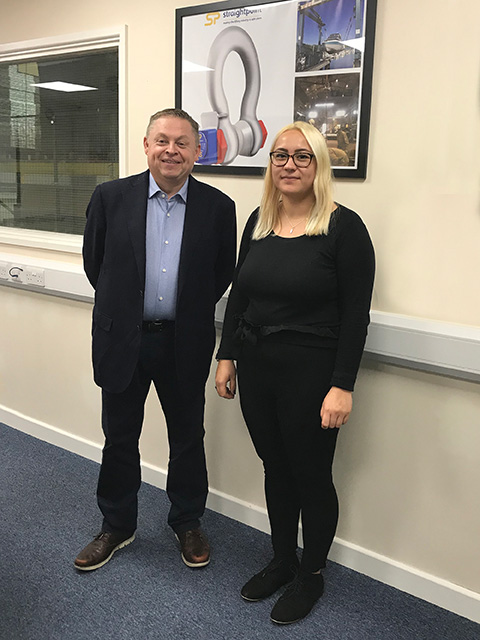 Straightpoint (SP) has named Lauren Johnson sales and customer support executive, as the load cell manufacturer continues to expand its team based at Havant, UK headquarters in line with an ongoing gazelle growth strategy.
The appointment represents a move into the industrial sector for Johnson, who was previously assistant manager / events coordinator for a venue on the nearby Hampshire coastline. Moreover, it completes a transition into a sales / customer service position more closely aligned with her core strengths and abilities.
She said: "I was determined to find the right role; this job appeared on a recruitment site where I was registered and I had no hesitation in making an application given the breadth of skills I could transfer to meet the key criteria. My previous job involved creating and following up leads on events, closing sales, up-selling packages, and overseeing the smooth operation of everyday procedures at the facility."
At SP, Johnson, who started on 12 November, will principally look after quotations, orders, and general customer service enquiries. She will also be responsible for managing relationships with global partners in Europe, the Middle East, Asia, and Australia, as the force measurement equipment specialist works with these strategic local distributors to provide product for lifting and many other applications in their respective marketplaces.
Johnson said: "They're both completely different ends of the spectrum in respect of products, but the concept of the sale is similar. Also, great customer service was important in my previous role, as that is how we secured repeat business and recommendations. It's already clear to me that SP is willing to go above and beyond the call of duty for partners and end users alike, so there is a great deal of common ground between my previous and new employers."
Ever-growing SP is familiar with the on-boarding process—Kizzie Cordwell stepped into the previous position to be filled in inside sales only this summer—and Johnson has already started to learn about the extensive product range, from the best-selling Radiolink plus load cell to equipment for more niche, specialised applications.
She said: "There are so many products and I've only been here a week so I'm still touching on some of them. But I have a great teacher, so I'm picking them up quick—I think! My first impressions are excellent; everyone is friendly and has welcomed me into the SP family with great warmth. The whole building runs with efficiency and staff carries out their jobs with enthusiasm and dedication. The customers I've encountered so far have been equally engaging."
David Ayling, director at SP, said: "It's fitting that Lauren completed her first week as other members of the team were busy networking and generating leads at the UK's LiftEx trade show. It's become a very multifaceted, dynamic operation and that becomes evident to new employees in their early days. I hear inductions have gone well and that Lauren has embraced this exciting challenge. As always, it's a privilege to welcome another young professional to the SP family."
In her spare time, Johnson enjoys sports and cooking.
---
Details

Written by

Administrator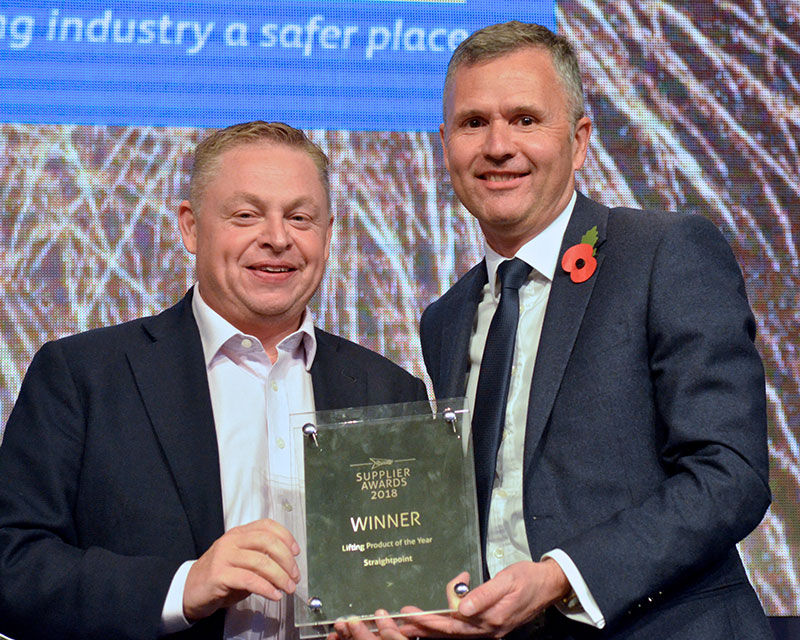 Straightpoint's (SP) Bluetooth-enabled Radiolink plus load cell and accompanying HHP app were named Lifting Product of the Year at the largest Speedy Expo ever, which took place at the Exhibition Centre Liverpool at the turn of the month.
Speedy has a specialist lifting division that offers an abundance of equipment for material handling and other applications. The rental company invites personnel and customers to an annual event, which this year gave 450 suppliers an opportunity to display their wares on 130 exhibition stands to over 1,000 attendees, including regional and national customers.
The Lifting Product of the Year Award was judged on the principle criteria of innovation and performance, with a judging panel of senior supply chain personnel bestowing the honour on SP's landmark technology, which was also demonstrated on the company's exhibition stand. The 2018 Speedy Expo took place on 31st October and 1st November, with the awards evening being held on the first night of the exhibition.
As outlined to the event's delegation—and evident to judges—SP recently updated its Bluetooth capability and launched an enhanced version of its popular app. Load cells now use wireless technology for exchanging data over short distances to communicate with up to eight devices, carrying the information up to 100m (328 ft.) away.
Collected data can be sent onto other recipients in the form of an Excel spreadsheet or PDF report. Speedy judges noted the product's ability to send reports from the same device that captures data that is already on their person—such as a mobile or cell phone.
Andy Connor, Partnered Services and Supply Chain Director at Speedy, said: "Our winning products were all commended for their innovation, safety, and performance. We have been staging the Speedy Expo for nearly 10 years but the concept was a lot smaller when it was first conceived. As well as bringing our suppliers together with our employees, over the last three years we have increased customer participation to showcase the breadth of innovation in terms of the products and services that we offer."
David Ayling, Director at SP, said: "The rental sector places unique demands on lifting equipment and Speedy's community is acutely attuned to the extent to which innovation and performance can lead to enhanced safety and productivity at the coalface. As such, plaudits from this esteemed judging panel represent a major milestone in our implementation of Bluetooth technology in force measurement applications. We're grateful for the accolade and understand the responsibility that comes with such high-profile recognition."
Ayling collected the award from Speedy's chief executive, Russell Down.
---