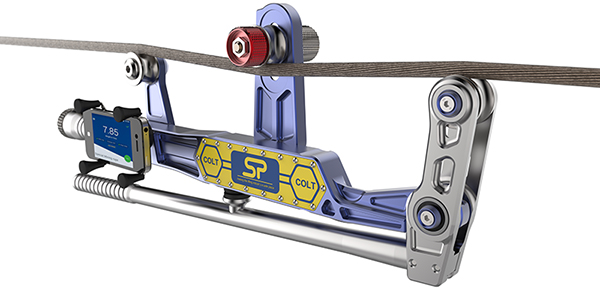 The Straightpoint COLT is a lightweight guy wire, steel wire, rope tension meter for fast and accurate measurement of tensions up to 11,000lbf/5000 kgf and up to 1"/25mm diameter. Manufactured using an integral, high accuracy, Bluetooth module the COLT transmits load data wirelessly to any smart device running our Android or iOS app. Statimeter dynarope tension wire measure for rigging towers, guy wires, overhead lines, zip lines, elevatir hoists, guard rails or architectural cables or any wire tension to ensure safety and correct operation.
This email address is being protected from spambots. You need JavaScript enabled to view it.

Constructed from aerospace grade aluminium the COLT digital tensiometer is lightweight and easy to handle and operates on wires that are already under tension. Once in place it allows the operator to quickly check tension on cables or wire ropes set at any angle. A built in smart device holder allows the COLT to be used as a traditional tension meter with on board display or the smartphone maybe handheld or mounted elsewhere. Supplied in a purpose made carry case the COLT is portable and utilises standard alkaline batteries making this perfect for on-site cable tension measurement across the world.
FEATURES
Unlimited wire rope calibration database via Android or iOS app
Main swivel joints fitted with high quality bearings
Lever ratio of 5.3:1 allows effortless, safe, clamping onto pre-tensioned wire ropes
Wireless Bluetooth enabling operator to stand at safe distance if needed
Quick intuitive adjustable centre sheave makes changing wire rope sizes fast and easy
No easily broken external antennae
High waterproof resistant design for all weather use
Massive battery life of 1000 hours operational time
As the library of wire rope diameters and constructions is increased each app user will benefit when they update and receive any new data.
APPLICATIONS
Guy wire maintenance on cell towers, bridges, stacks, antennas & masts.
Guy Tension & Tower Alignment
Guy Tower Plumb & Tension
Testing for plumb and tension on cell towers
Guyed tower installation tips
Guyed tower deployment
EHS guy wire, Turnbuckle tensioner.
Wire rope installations, comparing, equalizing & measuring
Median cable barrier tensioning
Utility cable overhead line monitoring
Elevator hoist, governor & compensating wire rope maintenance
Zip lines & assault course testing
Fall arrest systems
Metro, tram and rail transit electric wires & catenary testing
Ski lifts
Wire rope tied downs on vessels (using Tirfor)
Testing tension of ship mast wire ropes.
Tensioned trellis systems
Measuring Line Sag
SUPPLIED WITH THE FOLLOWING AS STANDARD
Proof test certificate
Operator Manual
Carry/Storage Case
2 year warranty
OPTIONAL

COLT verfication tool (CVT) to ensure the COLTS accuracy measurements are as accurate as possible