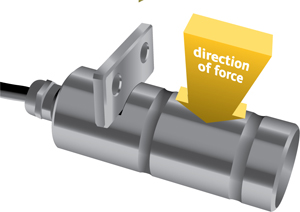 The Straightpoint range of Load Measurement Pins (LMP's) or shear pins are designed for use in applications where an end of line load cell cannot be used or an integrated solution is required in applications such as pulley or sheave axles, moorings, supports, winches or support blocks.
This email address is being protected from spambots. You need JavaScript enabled to view it.
Often a customised design they are manufactured in-house from 17-4PH stainless steel and are normally supplied complete with an anti-rotation plate as a cabled or wireless solution.
Built to withstand the harshest environments in industries such as marine, offshore oil and gas or construction they are suitable for use in exposed situations and can be supplied as a subsea product with SubConn connectors to withstand immersion in seawater to extreme depths. For hazardous areas we can supply a wireless ATEX or IECEx product for use in zones 0,1 and 2.
Straightpoint Loadpins are typically connected to Straightpoint's range of handheld displays or may be supplied with a vast array of output formats to include mV/V, RS-422, RS-485, utilising the ASCII, MODBUS TRU and CAN-BUS protocols or an analogue output such as 4-20mA for PLC integration.
They are also supplied with a 10 metre / 32ft cable as standard however usable cable length varies greatly with lengths available to 1500 metres / 4900ft depending on output format.
Note: Please advise cable configuration on order - Radial or Axial Pin exit.
If you require a Load pin to a particular size and design and return, POA.
Download our Load Pin Questionnaire
---
| | |
| --- | --- |
| Typical displacement of a loadpin under full load is around 0.04mm: | Typical lifespan of a 1mv/v loadpin is in excess of 10 billion cycles: |
| | |
General Description
Loadpin General Description
A load measuring pin senses the force applied across it, via strain gauges installed within a small bore through the centre of the pin. Two grooves are machined into the outer circumference of the pin to define the shear planes, which are located between the forces being measured.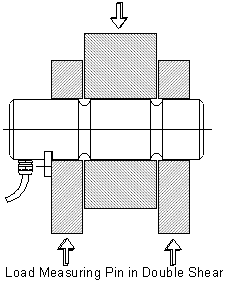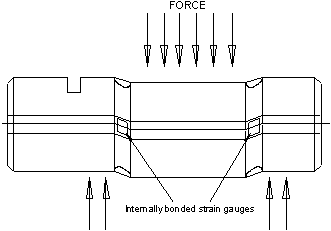 Load Pin Environmental Protection
As the instrumented area of the load pin is totally contained within a small central bore, the load pin sensor is inherently waterproof. Manufactured from special stainless steels, fitted with welded or `O' ring sealed end caps and with special attention to the signal cable glanding, a very high operating reliability can be guaranteed even for load pins operating underwater.
APPLICATIONS
Marine tankers, offshore platforms
Elevator and floor conveyor testing and certification
Bearing blocks, pivots and shackles
Cable laying equipment
Rope, chain, and brake anchors
Bridge support cables
Mooring lines
Pulleys and sheaves
Crane cables
Hoisting gear
Winches
SUPPLIED WITH THE FOLLOWING AS STANDARD
10 Metres / 30 Feet Cable
Proof test certificate
Operator Manual
Carry/Storage Case
WARRANTY & ASSURANCE
2 year warranty
Design validated by F.E.A.