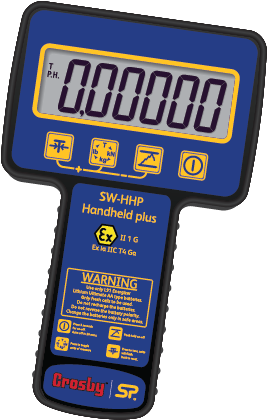 The ATEX hand control is an intrinsically safe rugged and versatile digital handheld display with a broad range of features and suitable for all Straightpoint ATEX/IECEx load cell products.
Each load cell has a range of 700m or 2300ft to measure loads from a safe distance in hazardous areas zones 0,1 & 2.
At the heart of the ergonomically designed ATEX Handheld plus is a powerful PCB providing industry leading features such as user selectable units of measure (tonnes, lbs, kg and kN), peak hold, pre-set tare and an overload counter.
Certification
SW-HHP ATEX
IECEx SIR 15.0072X / Sira 15ATEX2196X
About
FEATURES
Overload counter
Multiple display units – tonnes, lbs, kg and kN
100Hz Peak hold
Pre-set tare
Unrivalled Wireless range 700m/2300ft
ATEX Handheld plus are paired with the following Straightpoint ATEX/IECEx products:



WARRANTY & ASSURANCE
SUPPLIED WITH THE FOLLOWING AS STANDARD
2XAA Energizer L91
Operator Manual