Straightpoint has developed a 25kN, wireless tension load cell specifically engineered for the emergency services, salvage and 4 x 4 industries. The Towcell® allows for increased safety and the avoidance of costly overloads by providing real-time monitoring of tensile towing forces during recovery, clearance and salvage efforts.
This email address is being protected from spambots. You need JavaScript enabled to view it.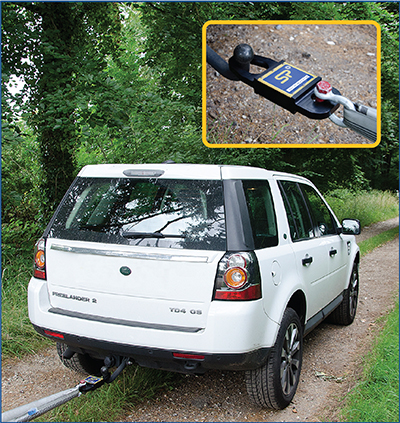 The Towcell® is rugged, lightweight, compact and can be installed, with ease, onto any tow bar, whether it's a standard 52mm or 2" ball or pin assembly and is ready to use in seconds.
Modelled after Straightpoint's best-selling Radiolink plus, the Towcell® is constructed of high quality aircraft grade aluminium, featuring an advanced internal design structure providing the product with an unrivalled strength to weight ratio, and allowing for the use of a separate internal sealed enclosure. This internal sealed enclosure provides the internal electronic components with IP67/NEMA6 waterproof environmental protection even with the battery cover plate missing.

Easily sourced AA alkaline batteries offer massive battery life of 1200 hours, and the Towcell® utilises an unbreakable internal antennae. Towcell® loads can be displayed via Bluetooth SW-HHP App.
FEATURES
Unique design to fit any standard 2" tow-hitch
LightweightInternal antennae
Compact size
Bluetooth wireless communication
Range 100m or 328ft
Waterproof to IP67/NEMA6
90dB Audible overload alarm
Unmatched battery life of 1200hrs
APPLICATIONS
Vehicle load monitoring
Emergency services
Rescue & Salvage
4 x 4 Events
WARRANTY & ASSURANCE
2 year warranty
Design validated by F.E.A.
SUPPLIED WITH THE FOLLOWING AS STANDARD
Proof test certificate
Operator Manual
Carry/Storage Case
AA Alkaline Batteries
RFID Tagged
Specifications/Technical Data
Towcell specifications
Part Number:

Towcell

Capacity
25kN
Resolution
0.01kN
Weight
1.4kg
3lbs
Safety Factor
5:1
Battery Type
4 x AA alkaline batteries
Battery Life
500Hrs continuous
Operating Temp
-10°c to +50°c
14˚ to 122˚F
Accuracy
±0.1% full scale
Range
100 metres
328 feet
Data Rate
50Hz
Protection
IP67
NEMA6
Dimension A
300mm
11.81"
Dimension B
43mm
1.70"
Dimension C
101mm
4.00"
Dimension ØD
51mm
2.00"
Dimension ØE
27mm
1.06"
Dimension ØF
31mm
1.22"