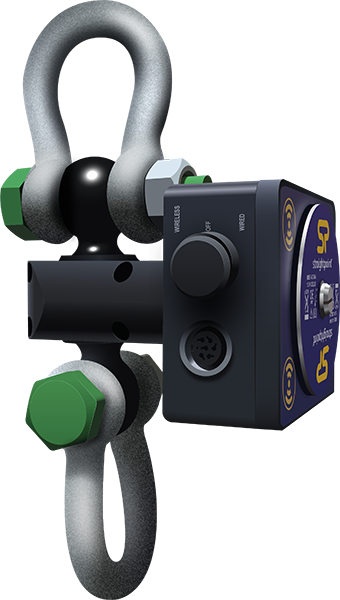 StageSafe is a 3t capacity load cell designed exclusively for the entertainment industry. Offering the accuracy of a load cell (0.3% of applied load) while retaining the best headroom possible (129mm/5") its matt black finish blends in perfectly as part of the stage rigging ensuring there are no distractions from the stage.
StageSafe boasts a unique switching feature allowing it to be used as a wireless or wired load cell.
Wireless mode allows simple, cable-free load monitoring and overload protection across the entire rigging setup and up to 100 StageSafe load cells may be monitored and logged real time on a tablet or laptop using our SW-MWLC software.
Wired mode gives the reassurance and dependability of a cabled load cell meaning it is suitable for show-critical events. The data can then be relayed to a single handheld display or to a PLC or external controller via our range of accessories.
StageSafe shares the industry-leading specifications of other Straightpoint wireless products – 1200 hour battery life, 700 metre / 2300ft wireless range and accuracy you can depend on.
*Not supplied with shackles
FEATURES
Compact and light - Perfect for stage riggers dealing with limited space
Lighter, more compact cabling - Eliminates overly heavy and chunky cabling and gives stage riggers a more portable solution
User configurable overload alarms in both wired and wireless modes - Easy to set on site for simple overload protection
Constructed from high strength alloy steel - For best strength to size ratio
Accepts standard shackles - StageSafe boasts a unique switching feature allowing it to be used as a wireless or wired load cell.
BENEFITS
Matt black finish - Disappears into stage rigging for zero audience distraction
Unique wired and wireless capability via a simple toggle switch - One load cell for both show-critical events (wired) and more general weighing/monitoring (wireless)
Lightweight and portable
APPLICATIONS
Stage
Theatre
Entertainment
Applications where a wireless or wired solution is required
WARRANTY & ASSURANCE
2 year warranty
Design validated by F.E.A.
SUPPLIED WITH THE FOLLOWING AS STANDARD
Proof test certificate
Operator Manual
Carry/Storage Case
RFID Tagged
Specifications/Technical Data
StageSafe specifications
Part Number

SSDB3T

Capacity
3te
6600lb
Operation
Wireless
Wired
Operation Selection
Switch
Resolution
0.001te
2lb
Weight
1.5kg
3.3lb
Safety factor
5:1
Battery Type
Loadcell 4x AA Alkaline
NA
Battery Life
Loadcell 1200Hrs continuous
NA
Operating Temp
-10 to 50 deg C
14 to 122˚F
Accuracy
+/- 0.3 % of applied load
Wireless Frequency
2.4GHz
NA
Wireless Range
700 metres (100m if Bluetooth)
NA
2300 feet (328ft if Bluetooth)
NA
Data Rate
3Hz up to 200Hz can be ordered for dynamic load monitoring applications
NA
Protection
IP65 (IP67 available as option)
Dimension A
129
5.08
Dimension B
25
0.98
Dimension C
35
1.38
Dimension D
88
3.46
Dimension ØE
21
0.83
Dimension F
102
4.02
Dimension G
45
1.77
Dimension H
89
3.50
Recommended Shackle
G2130-3.25T