Overview

Loadpin | Load Sensor
The Straightpoint range of Load Measurement Pins are designed for general use. They are machined from high tensile stainless steel and are normally supplied complete with an anti-rotation plate.
They are built to exacting standards and are suitable for use in exposed situations and can be supplied to withstand immersion in seawater. This range of load cells is Proof Loaded to 150% of the normal rated load.
Email your enquiry to This email address is being protected from spambots. You need JavaScript enabled to view it.
Our load pin range is typically connected to our
Handheld display
range or
Desktop Controller software
package via the Handheld Plus.
Please note:

Please advise cable configuration on order - Radial or Axial Pin exit.
If you require a Load pin to a particular size and design, download our Load pin Questionnaire and return, POA.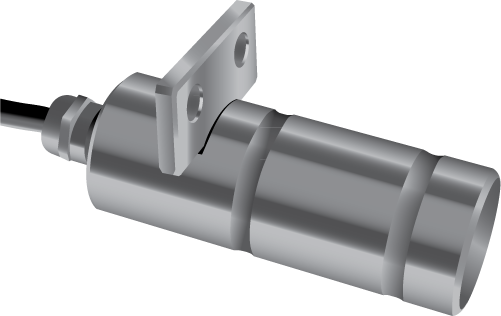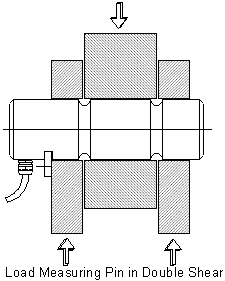 Load Pin General Description
A load measuring pin senses the force applied across it, via strain gauges installed within a small bore through the centre of the pin. Two grooves are machined into the outer circumference of the pin to define the shear planes, which are located between the forces being measured.
Load Pin Environmental Protection
As the instrumented area of the load pin is totally contained within a small central bore, the load pin sensor is inherently waterproof. Manufactured from special stainless steels, fitted with welded or `O' ring sealed end caps and with special attention to the signal cable glanding, a very high operating reliability can be guaranteed even for load pins operating underwater.


Load Pin Typical Locations
If a pin exists within a defined load path or can be fitted to experience a force, then a Straightpoint Load Pin can be installed to monitor that load. The sketches below show typical locations for load pins.



Load Pin Locking Systems
A load-measuring pin needs to be securely locked into position in order to fix its orientation with respect to its associated assembly. This needs to be fixed, both in the axial and rotation modes, to ensure that accurate and repeatable results are obtained from the system.
A standard load pin is designed to sense the force in one direction only. A force at right angles to that force will produce a zero output from the sensor.

Load Pin Cable & Connector Arrangements
The signal cable can normally exit from the load pin to suit the installation and space requirements. Emphasis should be placed on the protection of the cabling system from accidental damage during installation and use. A plug and socket breakdown can be incorporated at the load pin if required. Extra protection can be provided over the standard polyurethane sheathed cable in the form of hydraulic hose. This provides excellent protection with the advantage of associated fittings being readily available.


Loadpin applications:
Straightpoint Loadpins are used to monitor load in a variety of industrial settings and can be used in place of shear axles, clevis pins and in other mechanical pinned joint applications.
All Loadpin load cells are suppled with the following as standard:

10 Metres / 30 Feet Cable
Proof test certificate
Operator Manual
Carry/Storage Case
Specifications

Loadpin Load Cell - Specifications
Metric Dimensions = millimetres (mm)
Part Number

LP500KG

LP1T

LP2.5T

LP3.5T

LP6.5T

LP15T

LP25T

LP50T

LP100T

LP250T

LP500T

LP750T

LP1000T

LP1500T

Capacity

500kg

1000kg

2.5te

3.5te

6.5te

15te

25te

50te

100te

250te

500te

750te

1000te

1500te

Resolution

0.2kg

0.5kg

0.001te

0.001te

0.002te

0.002te

0.005te

0.01te

0.05te

0.1te

0.2te

0.2te

0.5te

0.5te

Weight

0.17kg

0.20kg

0.39kg

0.58kg

1.2kg

2.3kg

4.7kg

8kg

11kg

29kg

78kg

145kg

274kg

388kg

Protection

IP67 (IP68 available as option)

Safety Factor

300% of SWL

Operating Temperature

-20 to +70 °C


Accuracy

0.5% of SWL

Dim A

24

35

45

50

63

75

89

102

110

130

225

295

360

430

Dim B

36

49

70

75

95

114

152

178

190

220

370

500

612

731

Dim C

70

80

100

105

125

150

195

225

230

300

440

590

712

832

Dim D

20

20

25

30

40

50

63

75

88

125

170

200

250

275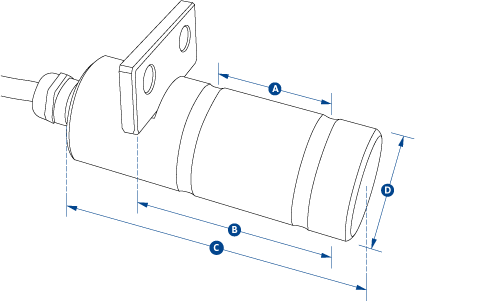 Please note if you require a Loadpin to a particular size and design download our loadpin questionnaire and return POA

Imperial Dimensions = inches
Part Number

LP500KGU

LP1TU

LP2.5TU

LP3.5TU

LP6.5TU

LP15TU

LP25TU

LP50TU

LP100TU

LP250TU

LP500TU

LP750TU

LP1000TU

LP1500TU

Capacity

1100lbs

2200lbs

5500lbs

7700lbs

14,000lbs

33,000lbs

55,000lbs

110,000lbs

220,000lbs

550,000lbs

110,0000lbs

165,0000lbs

220,0000lbs

330,0000lbs

Resolution

0.5lb

1lb

2lb

2lb

5lb

5lb

10lb

20lb

100lb

200lb

500lb

500lb

1000lb

1000lb

Weight

0.4lb

0.5lb

0.9lb

1.3lb

2.6lb

5lb

10.3lb

18lb

24lb

64lb

172lb

319lb

603lb

854lb

Protection

NEMA 6 (NEMA 6P available on application)

Safety Factor

300% of SWL

Operating Temperature

-4 to 158˚F

Accuracy

0.5% of SWL

Dim A

0.94

1.38

1.77

1.97

2.48

2.95

3.50

4.02

4.33

5.12

8.86

11.61

14.17

16.93

Dim B

1.42

1.93

2.76

2.95

3.74

4.49

5.98

7.01

7.48

8.66

14.57

19.69

24.09

28.78

Dim C

2.76

3.15

3.94

4.13

4.92

5.91

7.68

8.86

9.06

11.81

17.32

23.23

28.03

32.76

Dim D

0.79

0.79

0.98

1.18

1.57

1.97

2.48

2.95

3.46

4.92

6.69

7.87

9.84

10.83